Divide the following 10 titles among your team members so that someone is responsible for reading each book on the list. Each team member should read 2 different books. You are encouraged to read more than your assigned titles.
---
A classic fantasy with terrific girl power (and chocolate), perfect for fans of Shannon Hale and Jessica Day George.
Aventurine is a brave young dragon ready to explore the world outside of her family's mountain cave . . . if only they'd let her leave it. Her family thinks she's too young to fly on her own, but she's determined to prove them wrong by capturing the most dangerous prey of all: a human.
But when that human tricks her into drinking enchanted hot chocolate, she's transformed into a puny human without any sharp teeth, fire breath, or claws. Still, she's the fiercest creature in these mountains–and now she's found her true passion: chocolate. All she has to do is get to the human city to find herself an apprenticeship (whatever that is) in a chocolate house (which sounds delicious), and she'll be conquering new territory in no time . . . won't she?
---
The beloved New York Times bestselling author of the modern classic Frindle celebrates books and the joy of reading with a new school story to love!
Sixth grader Alec can't put a good book down.
 
So when Principal Vance lays down the law—pay attention in class, or else—Alec takes action. He can't lose all his reading time, so he starts a club. A club he intends to be the only member of. After all, reading isn't a team sport, and no one would want to join something called the Losers Club, right? But as more and more kids find their way to Alec's club—including his ex-friend turned bully and the girl Alec is maybe starting to like—Alec notices something. Real life might be messier than his favorite books, but it's just as interesting.
 
With The Losers Club, Andrew Clements brings us a new school story that's a love letter to books and to reading and that reminds us that sometimes the best stories are the ones that happen off the page—our own!
---
From the creative team behind the bestselling, Caldecott Medal–winning Finding Winnie comes an extraordinary wartime adventure seen through the eyes of the world's most beloved bear.
Here is a heartwarming imagining of the real journey undertaken by the extraordinary bear who inspired Winnie-the-Pooh. From her early days with her mama in the Canadian forest, to her remarkable travels with the Veterinary Corps across the country and overseas, and all the way to the London Zoo where she met Christopher Robin Milne and inspired the creation of the world's most famous bear, Winnie is on a great war adventure.

This beautifully told story is a triumphant blending of deep research and magnificent imagination. Infused with Sophie Blackall's irresistible renderings of an endearing bear, the book is also woven through with entries from Captain Harry Colebourn's real wartime diaries and contains a selection of artifacts from the Colebourn Family Archives. The result is a one-of-a-kind exploration into the realities of war, the meaning of courage, and the indelible power of friendship, all told through the historic adventures of one extraordinary bear.
---
Thoughtful, strong-willed sixth-grader Merci Suarez navigates difficult changes with friends, family, and everyone in between in a resonant new novel from Meg Medina.
Merci Suarez knew that sixth grade would be different, but she had no idea just how different. For starters, Merci has never been like the other kids at her private school in Florida, because she and her older brother, Roli, are scholarship students. They don't have a big house or a fancy boat, and they have to do extra community service to make up for their free tuition. So when bossy Edna Santos sets her sights on the new boy who happens to be Merci's school-assigned Sunshine Buddy, Merci becomes the target of Edna's jealousy. Things aren't going well at home, either: Merci's grandfather and most trusted ally, Lolo, has been acting strangely lately — forgetting important things, falling from his bike, and getting angry over nothing. No one in her family will tell Merci what's going on, so she's left to her own worries, while also feeling all on her own at school. In a coming-of-age tale full of humor and wisdom, award-winning author Meg Medina gets to the heart of the confusion and constant change that defines middle school — and the steadfast connection that defines family.
---
Olive and Willow are happy campers!
Or are they?
Olive is sure she'll have the best time at summer camp with her friend Willow – but while Olive makes quick friends with the other campers, Willow struggles to form connections and latches on to the only person she knows – Olive. It's s'more than Olive can handle! The stress of being Willow's living security blanket begins to wear on Olive and before long…the girls aren't just fighting, they may not even be friends by the time camp is over. Will the two be able to patch things up before the final lights out?
Raina Telgemeier and Frazzled fans, rejoice! Author-illustrator Kayla Miller is back with Olive in this emotional and honest story about navigating new experiences, learning to step outside one's comfort zone, and the satisfaction of blazing your own trails.
---
New York Times bestselling authors Bill Nye the Science Guy and Gregory Mone take middle-grade readers on a scientific adventure in the launch of an exciting new chapter book series, Jack and the Geniuses. The perfect combination to engage and entertain readers, the series features real-world science along with action and a mystery that will leave kids guessing until the end, making these books ideal for STEM education.
In the series opener, Jack and the Geniuses: At The Bottom of The World, readers meet Jack and his foster siblings, Ava and Matt, who are orphans. But they're not your typical kind of orphans—they're geniuses. Well, Ava and Matt are, which sometimes makes life difficult for 1twelve-year-old Jack. Ava speaks multiple languages and builds robots for fun, and Matt is into astronomy and a whiz at math. As for Jack, it's hard to stand out when he's surrounded by geniuses all the time.
 
When the kids try to spy on Dr. Hank Witherspoon, one of the world's leading scientists, they end up working for him in his incredible laboratory. Soon, Hank and the kids travel to Antarctica for a prestigious science competition, but they find that all is not as it seems: A fellow scientist has gone missing, and so has any trace of her research. Could someone be trying to use her findings to win the contest? It's up to Jack, Ava, and Matt to find the missing scientist and discover who's behind it all—before it's too late.
 
Integrating real science facts with humor and suspense, and featuring an ensemble cast of loveable boy and girl characters, this uniquely engaging series is an irresistible chemical reaction for middle-grade readers. With easy-to-read language presented in a fun, motivating, and accessible way, this series opener is a great book for both inquisitive kids and reluctant readers. The book also includes information about the science discussed and used to solve the mystery, as well as a cool science project about density that kids can do at home or in the classroom.

Bill Nye's brand talk show series for Netflix, "Bill Nye Saves the World" is now available.
---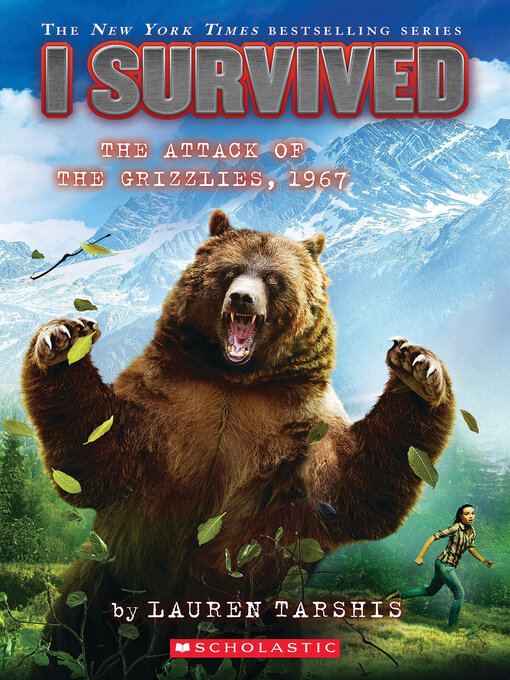 No grizzly has ever killed a human in Glacier before . . . until tonight. Eleven-year-old Melody Vega and her family come to Glacier National Park every year, and it's always been a place where she can forget her troubles. But this year is different. With Mom gone, every moment in the park is a heartbreaking reminder of the past.

Then Mel comes face-to-face with the mighty grizzly. Now her only thought is one of survival. Mel will soon be a part of one of the most tragic seasons in the history of America's national parks – a summer of terror that will forever change ideas about how grizzlies and humans can exist together in the wild.
---
Save Me a Seat joins the Scholastic Gold line, which features award-winning and beloved novels. Includes exclusive bonus content!
Joe and Ravi might be from very different places, but they're both stuck in the same place: SCHOOL.

Joe's lived in the same town all his life, and was doing just fine until his best friends moved away and left him on his own.

Ravi's family just moved to America from India, and he's finding it pretty hard to figure out where he fits in.

Joe and Ravi don't think they have anything in common — but soon enough they have a common enemy (the biggest bully in their class) and a common mission: to take control of their lives over the course of a single crazy week.
---
Looking for a fantastically fast-paced and funny read? Your wish is granted!" —Chris Grabenstein, #1 New York Times bestselling author of Escape from Mr. Lemoncello's Library
Twelve-year-old Ace's life is about to change in the most unexpected and magical ways—all because of a peanut butter jar.
When he opens it, he inadvertently releases a genie named Ridge. Now a Wishmaker, Ace is given a week to complete a seemingly impossible quest, and if he fails the world will end in the most tragic (but cuddly) way imaginable.
Luckily, Ridge can help by granting Ace an unlimited number of wishes…as long as Ace is willing to accept the consequences. The bigger the wish, the greater the consequence. So, if Ace wants to avoid having pogo sticks for legs or his clothes turn invisible, he'll have to be careful what he wishes for and get a little creative.
Perfect for fans of Dan Gutman and Max Brallier, this new middle grade series by Tyler Whitesides (author of the Janitors series) is a wonderful mix of unpredictable magic, zany humor, and daring adventure. You'll wish it never ends!
---
A kid favorite for over thirty years, this award-winning modern-classic is sure to delight readers for years to come!
When William learns that his favorite caretaker Mrs. Phillips is leaving, he is devastated. But then she gives him her parting gift–a mysterious model castle that has been in her family for years. The castle is perfect in every way, with a drawbridge, a moat, and a fingerhigh knight to guard the gates. It's almost too real.

Sure enough, when William picks up the tiny silver knight, Sir Simon comes alive in his hand and tells William a mighty story of wild sorcery, wizards, and a kingdom in need of saving. Hoping the castle's magic holds the key to getting his friend to stay, William embarks on a fantastic quest to another land and another time–where a fiery dragon and an evil wizard are waiting to do battle.