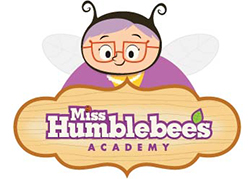 The eLibrary from the Allegheny County Library Association now has access to Miss Humblebee's Academy!
The site is interactive kindergarten-readiness program that introduces children ages three to six to key concepts in math, science, social studies, language and literacy, art, and music. It's as challenging as it is fun!
You can tune your child's learning to particular subjects (math, art, etc.) or choose your lessons from dozens of themes – animals, dinosaurs, grasslands, neighborhoods, sports, weather, and more.
To supplement learning, there is a library collection that relates to the topics. The ebooks available in the library offer both read-to-me and independent reading options.
Additionally, there are printable math, reading, counting, and science worksheets and coloring pages to match the featured subjects/themes.
Thank you to Gale/Cengage Learning for making Miss Humblebee's Academy available to libraries for free during this period of closure.
New Resource for Preschool Learners